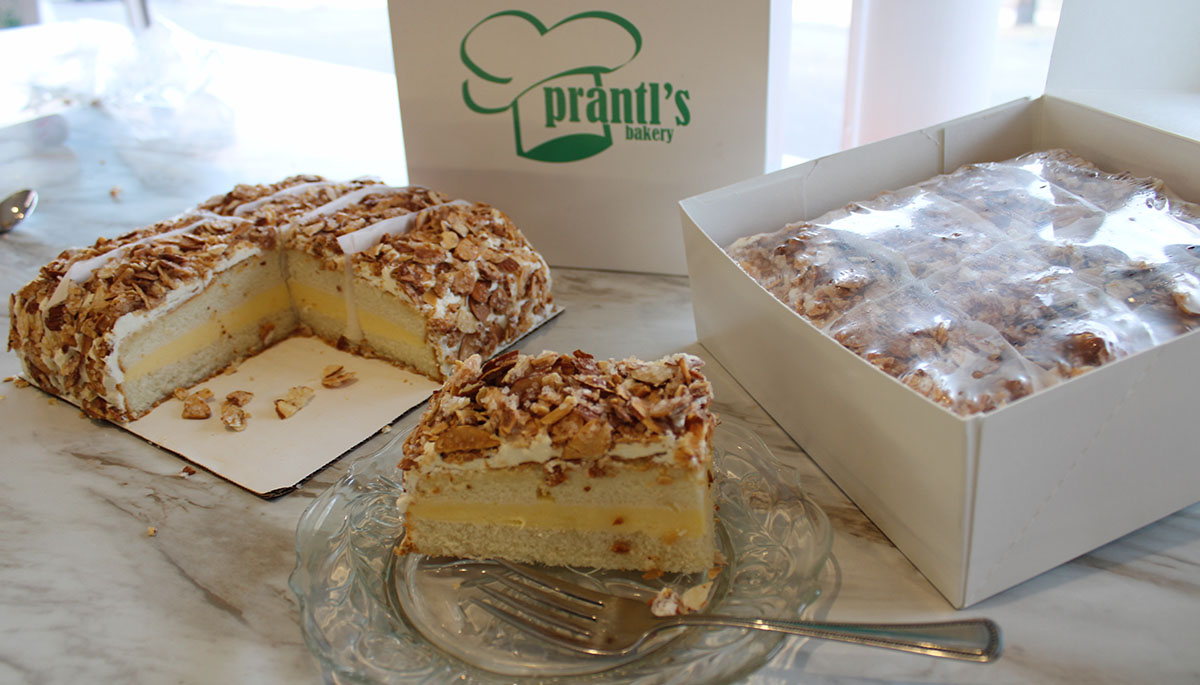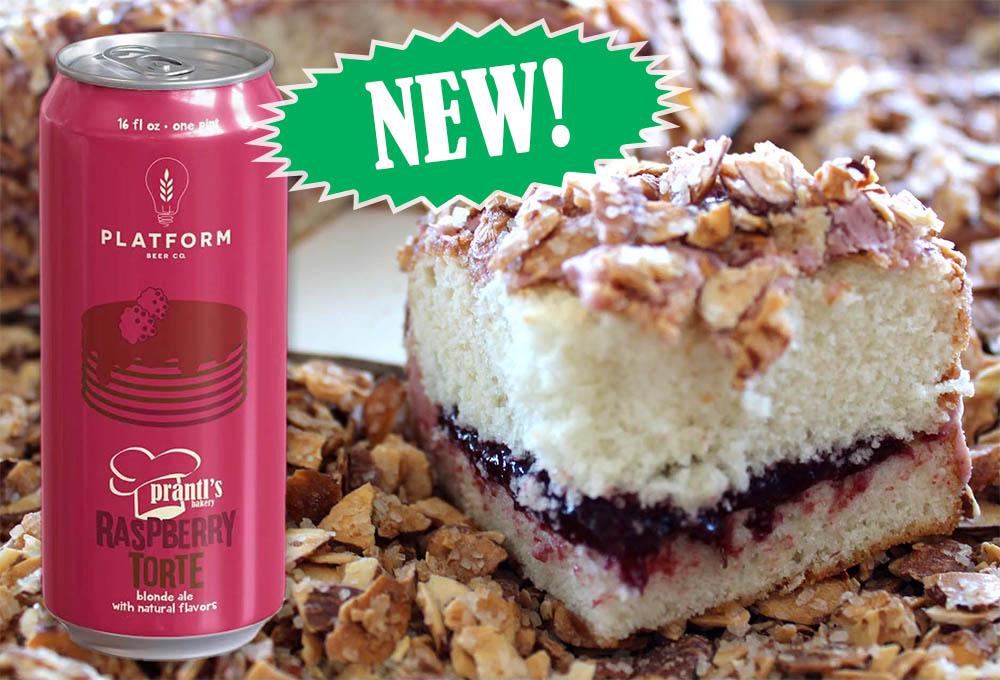 NEW: A Great Pairing!
Prantl's Raspberry Almond Torte
Just when we thought our award-winning Burnt Almond Torte couldn't get any better, we added the luscious sweet and tart taste of raspberries. Our new Raspberry Torte is topped with sweet raspberry buttercream and raspberry filling is between the layers.
Then we collaborated with Platform who created a juicy blonde ale with a smooth raspberry flavor.
Order online or call 724-837-3706 to place an order or about hosting a pairing at your bar or restaurant.
Free Delivery with $500 purchase.  Call 724-837-3706 to order.
And Prantl's Raspberry Almond Torte Ale
You can get Prantl's Raspberry Almond Torte Ale at many locations in the Pittsburgh Area after 4/25/22.
Allegheny Bev
Arsenal
Auggie's Beer Warehouse
Babcock Distributing
Baldwin Confluence Beer Dist
Balson
Beer & Tobacco - Downtown
Beer 88
Beer And Beyond
Beer Arena - Belle Vernon
Beer Arena - Greensburg
Beer Bets & Butts
Beer Hive
Beer Marsala
Beer Nation Dist Inc
Beer On 8
Beer On Butler
Beer Towne
Bellevue Beer Llc
Beverage Warehouse
Bigham Tavern
Black & Gold Dist Freeport
Blairsville Beverage
Brentwood
Brew House
Brewski's Dist
Brians Brewery Outlet
Bridge City Beverage
Buddy's Brews On Carson
Carnivores
Carson St Deli
Case Handlers
Castle Tavern South
Charles E. Kelly Exchange
Colonial Beer (Brews Bros.)
Coney Island (S Rock)
Connellsville Beer Warehouse
Cool Water Saloon
Corners Beer Distributor
Coughlin's Law
Craig
Cranberry Sports Bar
Dawgs Bottles Shop
Dean's Beer Dist
Delmont Beer
Diamond D Distributing
Dommy's Pizza
Double Wide Grill (Sside)
D's 6-Pk & Hot Dog*
D's Murrysville
Duffy's Pop & Beer Wareho
Duke's Upper Deck Cafe
Dunbar Distributing
Edgewood Beer & Tobacco
Essex
Fontana's Cafe
Get Away Mcneilly Beer
Giant Eagle #009 Hempfield
Giant Eagle #010 Irwin
Giant Eagle #014 Village Sq
Giant Eagle #018 Glenshaw
Giant Eagle #037 Leetsdale
Giant Eagle #040 Shadyside
Giant Eagle #041 Leechburg
Giant Eagle #042 Seven Fields
Giant Eagle #043 Pine Twp
Giant Eagle #045 Wexford
Giant Eagle #052 Camp Horn Rd
Giant Eagle #060 Monroeville
Giant Eagle #061 South Side
Giant Eagle #063 Greenfield
Giant Eagle #067 Mcintyre
Giant Eagle #068 Moon
Giant Eagle #072 Waterworks
Giant Eagle #073 West Mifflin
Giant Eagle #081 Eastgate
Giant Eagle #082 Latrobe
Giant Eagle #093 Brentwood
Giant Eagle #1691 Rt 8 Gibsonia*
Giant Eagle #6379 Waterfront
Giant Eagle #665 Cranberry*
Giant Eagle #670 Slip Rock*
Giant Eagle #678 Indiana*
Glenn Distributing
Hal's Bottleshop
Hampton Beer Outlet
Hardwood Cafe
Hartwood Beer
Hillcrest Distributing
Holiday Beverage
House Of 1000 Beers
House Of 1000 Beers North
Industry - Robinson
Industry Public House
Jeannette
Joes Beer Dist (Pgh)
Kenmar Brew Thru
Latrobe Beer Warehouse
Ld's Beer House
Leo's Pub & Grill
Liberty Beer
Mad Scientist Beer Llc
Maricondia Beer Distributing
Mc Broom Distributing
Mcneilly Beer
Mellinger Distributing
Mike's Beer Bar
Mister B's North
Mogie's Irish Pub
Moon, Pop & Beer For Less
Moreland's At Waterworks
Myrna's Brewery Outlet
North Park Lounge Muryvl
North Shore Tavern
Northern Beer Traders
Olympia Brew
Penn Crossing Distributor
Pete's Uptown
Pistella
Pit Stop Beer Express
Pittsburgh Street Beverage
Reservoir Inn - Beermuda
Rick's Sports Bar & Grill
Rooz Brews
Rostraver Beer Warehouse
Ryan's Creekhouse
Save On Beer
Save-Mor Beer & Pop Wareh
Shady Grove
Shop & Save Lawrenceville
Shop N Save Oakdale
Sudsy's Bethel Park
Super Beer World
Terrick
The Hop Shop
Tondona Enterprises (Jb's)
Two Daughters Beer Market
Uptown Beer
Urban Tap - Shadyside
Urban Tap - South Side
Virgili
West Liberty Beer
West Point Plaza Beer
Wexford Beverages
Wish's Bar & Grill
Woodpeckers
Zelie Beer 4 Less
Zoe's Beer
Z's Beer